International Network of Educational Institutes
The INEI (formerly International Alliance for Leading Educational Institutes, IALEI) is an international education think-tank with 9 members, each from a different country, representing leading education institutes around the globe.
INEI Partner List
Established in 1853, the University of Melbourne is a public-spirited institution that makes distinctive contributions to society in research, learning and teaching and engagement.
University of Sao Paulo is the major institution of higher learning and research in Brazil. USP is responsible for educating a large part of Brazilian Masters and Ph.D's.
OISE is recognized as a global leader in graduate programs in teaching and learning, continuing teacher education, and education research. We are the largest and most research-intensive institute of education in Canada and one of the largest in North America.
Beijing Normal University (BNU). Being a leading institution in educational field, we play an influential role not only in our field in China, but also in educational scholars mentoring and research in the world.
National Institute for Education at Nanyang Technological University is a national teacher training institute in Singapore. We are proud to be an integral part of the educational service.
The School of Education at University of Cape Town is a largely post-graduate interdisciplinary department in the Faculty of Humanities with research activity across a number of important fields.
The College of Education at Seoul National University has developed excellent bachelor, master, and doctoral degree programs to provide students the professional background.
The UCL Institute of Education is a world-leading school for education and social science. Founded in 1902, we currently have over 7,000 students and 1,000 staff. We are active in every continent.
The School of Education and many of its programs are widely regarded as being among the very best in the nation. The people and units that make up the School are addressing many of society's most critical needs — from challenges in education at all levels to issues in health and other human services — while also contributing to the quality of life through the arts.
INEI Policy Brief
Policy Brief on Games and Learning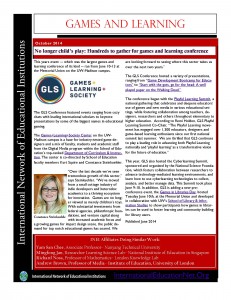 Policy Brief on Educational Neuroscience